Some features of the Presenter view
Usually, there are two different monitors for the presentation. For example, the first screen is your laptop, and the second screen is the provided monitor, TV, projector, web application screen, etc.
Also, with access to the Internet, you can use an additional application such as WebEx or GoToMeeting or just present your PowerPoint presentation online using the Office Presentation Service, to show your presentation to the audience on the additional screens.
In the multi-screen mode, PowerPoint proposes the Presenter view, a special view of the presentation that is available on systems with more than one screen: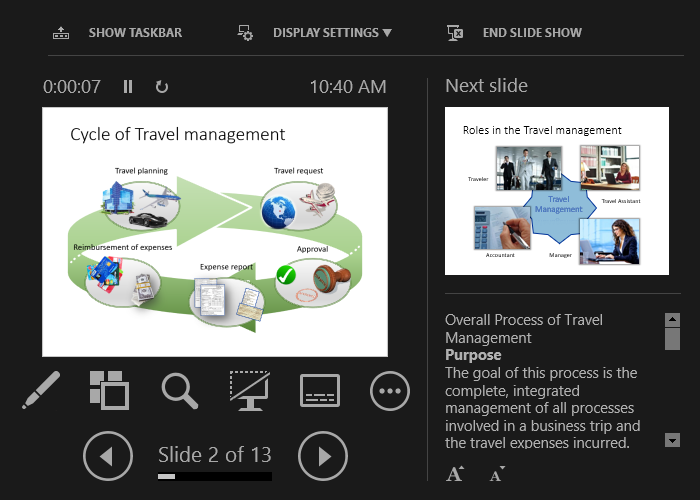 To start your presentation with the Presenter view, do the following:
1. Start your presentation by:
On the Slide Show tab, in the Start Slide Show group, choose one of the buttons – From Beginning or From Current Slide (see also how to create your own slide show):

On the status bar, click the Slide Show button:

Press F5.
2. Run the Presenter view:
2.1. When your presentation is started, at the bottom left, you will see the control bar:

2.2. Click on the

button and then choose Show Presenter View: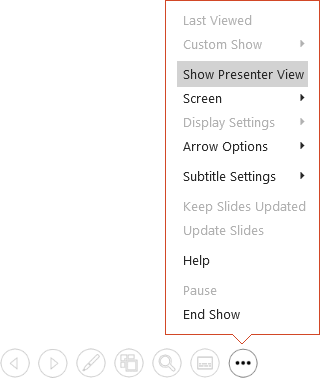 Note: You can just click Alt+F5 to run your presentation with the Presenter view. But this option works not for all cases, unfortunately.
See also this tip in French: Quelques fonctionnalités du mode Présentateur.