How to create a hand-drawn arrow shape in PowerPoint
Hand-drawn diagrams and flowcharts have become popular lately, but you cannot use default PowerPoint shapes to create them. In this tip, you will see how to create a custom arrow shape with a freehand effect.

or

To create a shape like the one above, do the following:
1. On the Insert tab, in the Illustrations group, click the Shapes button:

2. In the Shapes drop-down list, in the Basic Shapes group, select Arc: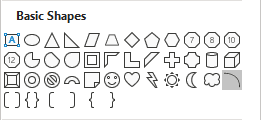 3. Place it and change the size as you prefer: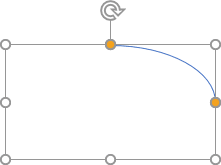 4. Right-click on the new shape and choose Format Shape... from the popup menu.
5. On the Format Shape pane, on the Shape Options tab, in the Fill & Line group, in the Line section, choose Solid line and then:
Select your favorite Color,
Select Width as you prefer:

Select the End Arrow type. For example, Stealth arrow:

Select the End Arrow size as you prefer. For example, the biggest one - Arrow R size 9:
Add any other adjustments you like.
Note: You can add four arc lines to create a hand-drawn arrow. For example:

To see more smoothed lines, on the Format Shape pane, on the Shape Options tab, in the Fill & Line group, in the Line section, choose Round in the Cap type drop-down list: