How to add additional information to your presentation
The presentation should minimize the amount of information, but give a comprehensive representation of it. However, for the discussions you may need additional information that will bloat your presentation. Fortunately, there are other ways than adding those information to the slides.
PowerPoint proposes several different ways, how to deal with additional information in the presentation. You can:
Add some additional information to the Notes (see how to view your Notes in the Presentation mode)
Create a hidden slide and show it just if somebody asks (see how to work with hidden sides)
Create slide with additional information in the end of your presentation and just put some link to this slide for better navigation (see how to organize your slides)
Open the file on your laptop by creating hyperlink (use Dropbox, OneDrive, etc., but be sure that you will be connected to that resource during the presentation time).
To add some detailed information to your presentation, it is necessary to make:
Presented view of detailed information
Link in the slide with totals to the slide with detailed information
Finishing of the presentation before the additional slides with detailed information will appeared (this step isn't necessary, even if the detailed information is in the presentation).
To do that, follow next steps:
1. Make a presented view of detailed information: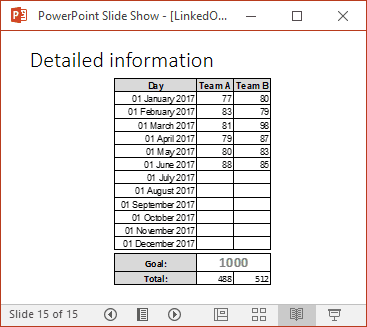 Note: If you would like to return to the slide with totals, you can:
Put the link to that slide in the detailed information slide, or
Create a Custom Slide Show to automatically return to the previous slide after detailed information (see how to organize your slides).
2. Create a slide with totals and put anywhere a link to the detailed information:
2.1. Add any shape or text box with any text for link.
2.2. Right-click on the object (shape or text box), select Link in the popup menu and then click Insert Link…: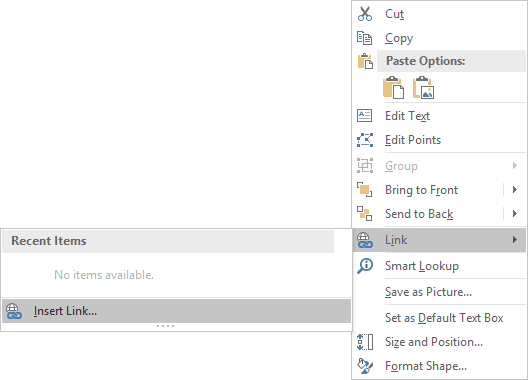 2.3. In the Insert Hyperlink dialog box:
Choose Place in This Document in the Link to group
Select the slide with detailed information in the Select a place in this document list: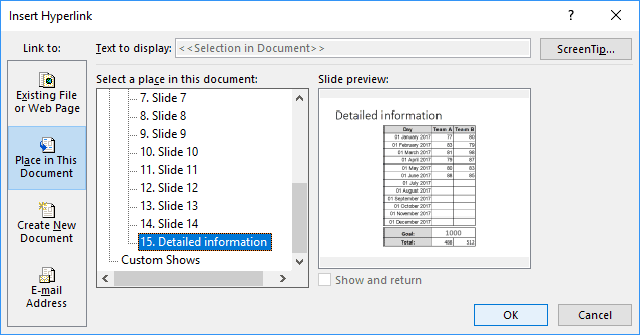 If you want, you can insert a screen tip using the ScreenTip… button
Click OK.
Now you will see the link in the Normal view:

Note: When you will show the presentation, this link can be activated by clicking on it, without Ctrl+Click.
3. If you choose the creating link for returning to the totals, do the following:
3.1. Create a shape or text box with text in the slide with detailed information:
3.2. Create a link to the slide with totals: