How print multiple emails to a single pdf file
Outlook users receive a lot of different information and email. Somebody may want to save important information to pdf file, such as all messages regarding one subject, project, etc.
It is easy to print selected emails to one pdf file for future use.
To do so, do the following:
1. Select messages that you want to save in one pdf file.
2. On the File tab, click Print (or click Ctrl+P):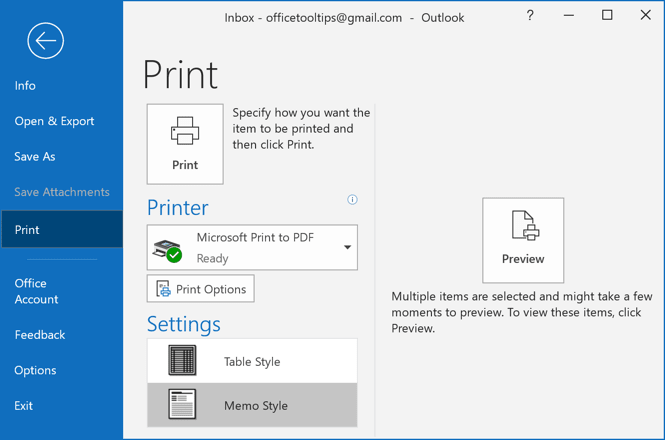 In the Printer drop-down list, select Microsoft Print to PDF
if necessary, click the Print Options button if you want to change any of them such as possibility to print all attachments: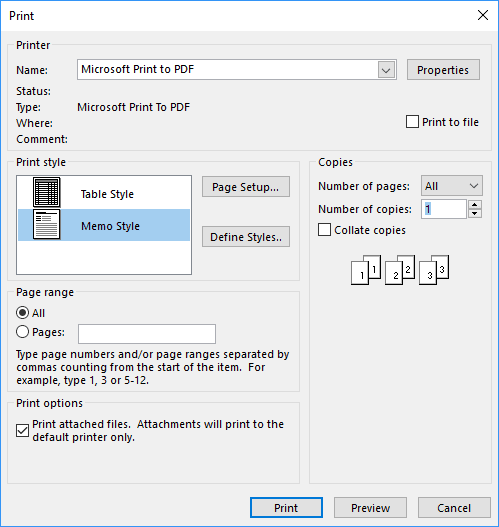 Click Preview to see which pages and how they would be printed to the pdf file.
3. Click Print and then in the Save Print Outputs As dialog box:
enter the name of the new file
choose the location
click Save.
See also this tip in French: Comment imprimer plusieurs courriels dans un seul fichier PDF.