How to create a flowchart with SmartArt
A flow chart usually shows steps in a task, process or workflow. There are many different SmartArt templates predefined in Excel that you can use to illustrate the process, including some complex templates with pictures.
Sure, it is very easy to create your own flow chart using a predefined template (see draw a flowchart in Excel).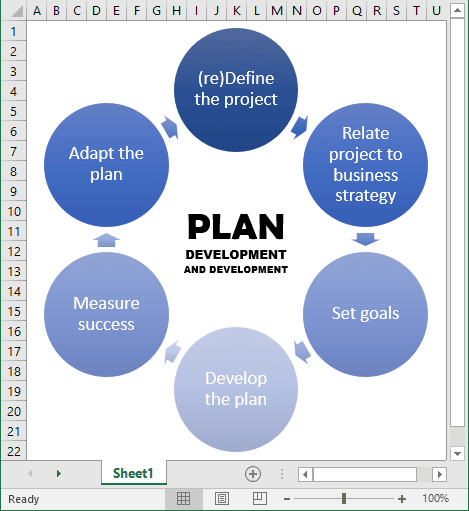 To make the chart using SmartArt tools, do the following:
1. On the Insert tab, in the Illustrations group, select SmartArt:
2. On the Choose a SmartArt Graphic dialog box, in the Cycle group, choose the item that you prefer (in this example has been chose Basic Cycle):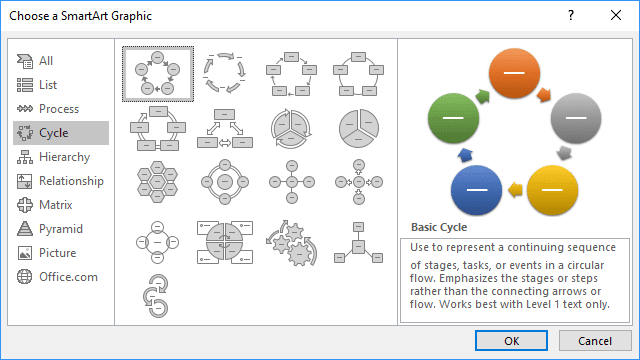 3. To enter a text in the shapes, do one of the following:
Just double-click in the shape and enter the text:

Click on the Text Pane arrow in the SmartArt graphic and type texts in the Text Pane:

Under SmartArt Tools, on the Design tab, in the Create Graphic group, click the Text Pane button:
4. To make adjustments for your graphic you can use Excel SmartArt instruments:
4.1. Under SmartArt Tools, on the Design tab, in the SmartArt Styles group:

Select colors from the Change Colors dropdown list:

Select SmartArt style you prefer:
4.2. To change size of all shapes in your graphic, do the following:
Select all shapes which you would like to resize by dropping Ctrl button and selecting all shapes:

Under SmartArt Tools, on the Format tab, in the Size group, change sizes for all selected shapes:
5. To add text in the center of the graphic, just add the Text box in it - on the Insert tab, in the Text group, click Text Box button: