Working with multiple presentations
You usually work with only one presentation at a given time. But occasionally, you may need to open two or more presentations at once. E.g., to copy text or slides from one presentation to another.
To open another presentation, in the File tab, choose Open or click Ctrl+O and select the presentation.
When more than one presentation is open, you can switch among them by selecting the one you want to see from the taskbar in Windows. E.g.: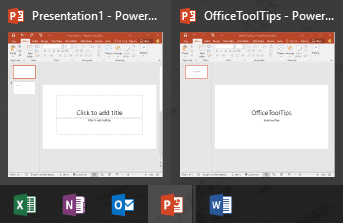 Alternatively, you can do one of the following:
1. On the View tab, in the Window group, click the Switch Windows button: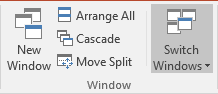 Select any open presentation from there: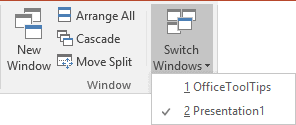 2. Switch between open windows of all applications by:
holding down the Alt key and pressing Tab to browse thumbnails of open windows (Alt+Tab) - not just PowerPoint;
pressing Alt+Esc repeatedly to cycle through them - not just PowerPoint;
pressing Ctrl+F6 to switch between just PowerPoint presentations.
See also this tip in French: Travailler avec plusieurs présentations.