How to create a flowchart with chalk drawing effect
Some popular presentations show slides that mimic blackboards, and charts or diagrams look drawn with chalk. Here you will find some tricks that help to create slides like this: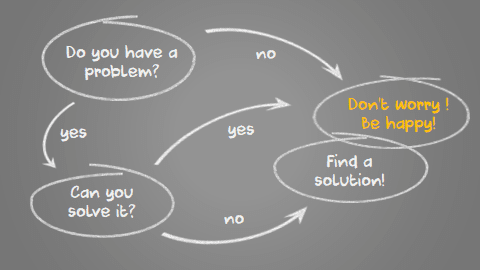 See also How to draw charts with chalk effect in PowerPoint.
To create a flow chart like the one above, do the following:
1. Create custom shapes such as an oval and an arrow:
In this example, we used:
Three different oval shapes (the fourth one is the rotated first shape) - see How to create a hand-drawn oval shape in PowerPoint:

,

and

Just one custom arrow, see How to create a hand-drawn arrow shape in PowerPoint:

or

Font DK Cool Crayon font.
2. Customize the background color:
2.1. Do one of the following:
Right-click on any empty space in the slide and choose Format Background... in the popup menu:

In the Design tab, in the Customize group, click the Format Background button:
2.2. On the Format Background pane, on the Fill tab, in the Fill group, select:
Solid fill, and choose the color as you prefer,
Gradient fill, and choose gradient and other parameters.
In this example was used gray Preset gradient without any additional changes: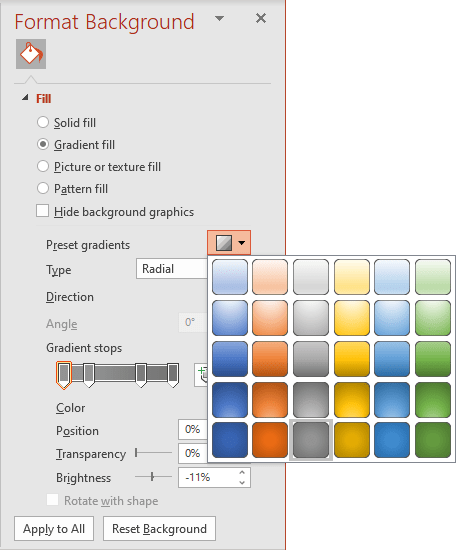 3. Make a chalk effect for shapes:
3.1. First, it is necessary to convert the shape to the picture:
Select a shape or a group of shapes.
On the Home tab, in the Clipboard group, click the Cut button (or press Ctrl+X):

On the Home tab, in the Clipboard group, click the Paste drop-down list and choose Picture:
3.2. To make a chalk effect, select a picture and then on the Picture Format tab, in the Adjust group, click Artistic Effects:

Select the effect you like from the Artistic Effects drop-down list.
In this example was used the Pencil Sketch effect: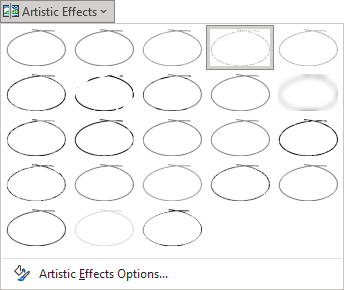 4. Add the same artistic effect to all other shapes.
Add text and other adjustments you like.