How to specify a Custom Message in the New Mail Alert
You can configure Outlook to display a message of your choice when a new e-mail arrives.
Do the following:
1. On the Home tab, in the Move group, click Rules, and then click Manage Rules & Alerts:

2. In the Rules and Alerts dialog box, choose New Rule...: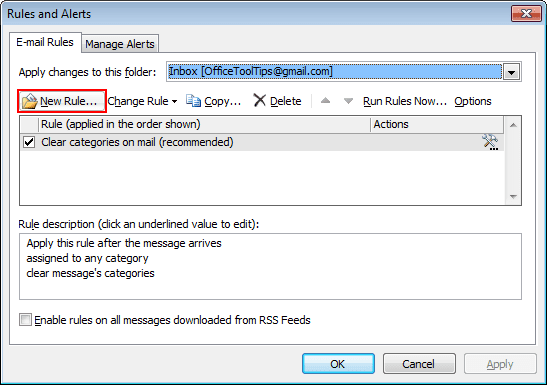 3. Outlook launches the Rules Wizard. In the section Stay Up To Date, in Step 1, select Display mail from someone in the New Item Alert Window:
4. In Step 2, click the underlined text people or distribution list and enter the addresses that you want this particular alert to appear for. Then click the Next > button.
5. Next, click the underlined text a specific message and enter the text you want to appear in the New Item Alert window, then click the OK button.
6. Click the Finish button to save the new rule.