How to add custom holidays to the calendar
This tip shows how to create and add custom holidays, for example, of your company to the Outlook calendar.
To add custom holidays to Outlook calendar, do the following:
1. Open the outlook.hol file (after first making a safe copy of it somewhere else):
For example, it can be here: C:\Program Files\Microsoft Office\Office14\1033\outlook.hol.
2. Go to the end of the file, and add events using the following format:
[Description of Section] nnn - useful description of the section, and then type the name of the events; the nnn part represents the number of events within the section
Event or holiday description, yyyy/mm/dd
Event or holiday description, yyyy/mm/dd
3. On the File tab, click the Options button: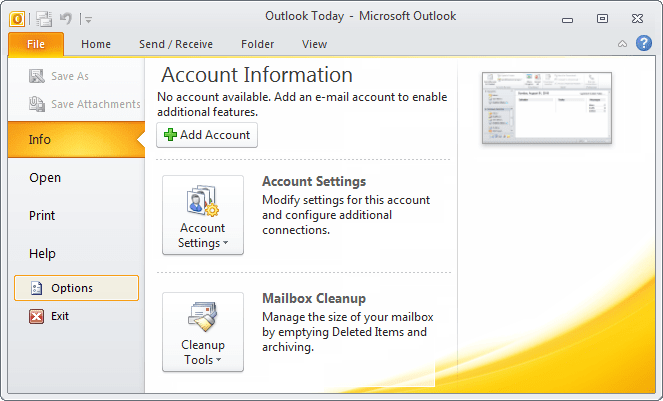 4. In the Outlook Options dialog box, on the Calendar tab, under Calendar options, click the Add Holidays... button:
5. In the Add Holidays to Calendar dialog box, select the country and check holidays for it:
6. Click Ok to add holidays of the selected "country" to your Outlook calendar:
See also How to delete holidays and events from the calendar.