Working with Math Input Control dialog box
The Math Input Control dialog box allows you to use various input devices, such as external digitizers, touch screens, and even just a mouse, to write mathematical formulas in the form of equations.
The entered formulas are automatically recognized so that they can be inserted into various types of documents using Microsoft Word, Excel, and others. Formulas created in the Math Input Control dialog box are fully editable as if they were entered using the built-in Equation Editor utilities.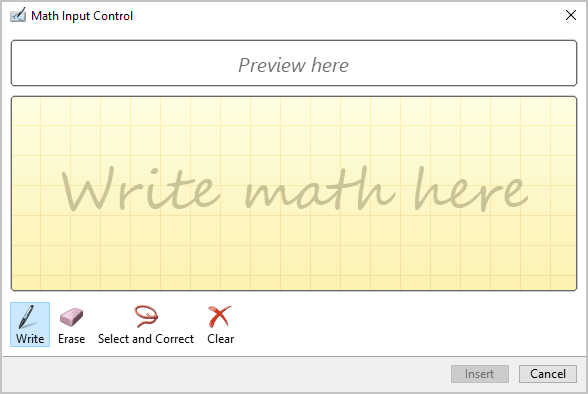 There is a grid box with the message Write math here in the center of the Math Input Control dialog box. This is the area where you need to enter the formula you want to enter into your document or presentation. To enter the formula, just write symbols with the mouse or other digitizing equipment, or even yourself with your finger (if your computer has a touch monitor).
In the Preview here field, you can immediately see how Microsoft recognizes the entered text: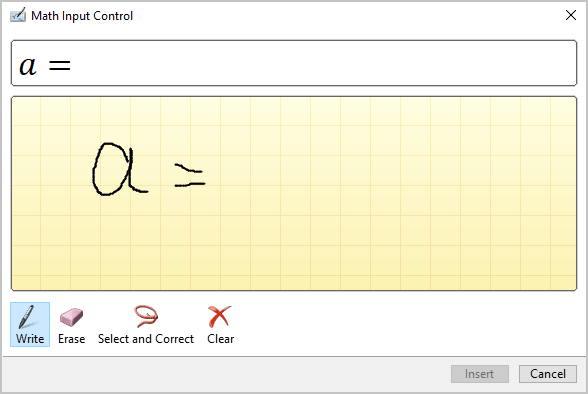 Using the buttons at the bottom of the screen, you can:
Continue writing by clicking the Write button,
Remove the symbol you don't need, or you prefer to rewrite by clicking the Erase button:

Click the Select and Correct button to select the symbol(s) for which you want to select other variants of the recognized text:

Choose other option you need:

Click the Clear button to delete everything you've already entered in the Write math here area.