How to create a computable drop-down list
When you fill data in some spreadsheet, it can be necessary to show different drop-down lists that depend on some filled or calculated values.
For example, we need to select gifts for the employee's children from the lists for different ages. So, there is a spreadsheet with:
Name and birthday date of a child
Calculated children's age using the formula (see How to calculate an age in Excel) for the 1st of August as current date:

= DATEDIF (<start date>, TODAY(), "y")

where TODAY() calculates current date, "y" calculates complete years between <start date> and TODAY():
The next field should contain drop-down list dependent on calculated age, for example:
To create the computable drop-down list, do the following:
1. For every dependent drop-down list, create a named range (see Creating and using named ranges), for example:
First – for children from 1 to 5 years
Second – for children from 5 to 9 years
Third – for children under 9 years:
2. Create the drop-down list (see Creating a Drop-Down List in a Cell):
2.1. On the Data tab, in the Data Tools group, click Data Validation: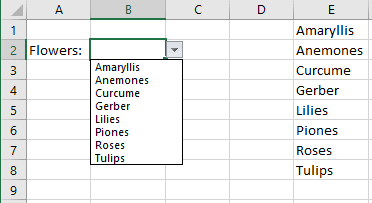 2.2. In the Data Validation dialog box, on the Settings tab:
In the Allow drop-down list, select List.
In the Source box, specify the range, using the formula:

= IF ($C2<1, 0, IF ($C2<6, first, IF ($C2<10, second, IF ($C2<17, third,)))).

Make sure that the In-Cell Dropdown option is checked.
Excel will show different lists for different ages: