Changing a comment shape
The kind of comments that users of earlier versions of Excel used to work in Excel for Microsoft 365 are called
notes
. You cannot change the shape of
comments
because all comments are displayed in the separate pane with threads or on the
Comments
pane (see
How to hide/show note and comment indicators
for more details).
When a note is inserted in a cell, the little red triangle is displayed:
Usually, when you add the note, it has a rectangular shape, but you can give the cell note any form you want:

To change the shape of a cell note, add a command to your Quick Access toolbar (see Adding commands to the Quick Access Toolbar):
1. To the right of the Quick Access toolbar, click the tiny arrow button to open the drop-down menu: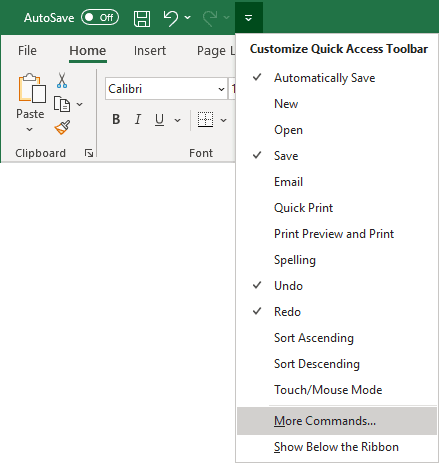 2. Near the bottom of the menu, click More Commands....
3. In the Excel Options dialog box:
From the Choose commands from drop-down list, select Drawing Tools | Shape Format Tab.
From the list on the left, select Change Shape and then click Add >>:
4. Click OK to close the Excel Options dialog box.
After performing these steps, your Quick Access toolbar has a new Change Shape icon:

To change the shape of a note, do the following:
Ensure that it is visible (for example, by right-clicking the cell and selecting Show/Hide Comments).
Click the note's border to select it as a Shape (or, Ctrl-click the note to select it as a Shape).
Click the Change Shape button on the Quick Access toolbar and choose a new shape for the note box:

See also this tip in French: Comment changer une forme de commentaire Excel.