Change text language
Microsoft Word is used in different countries and many languages. For some documents such as international Agreements, you need to write the documents or just parts of the document in a different language.
To change the text language, select the text for which you want to change language and do one of the following:
On the Review tab, in the Language group, click the Language button, then choose Set Proofing Language...:

On the status bar, click the Language icon:
In the Language dialog box, choose the language you want to use for the selected text and click OK: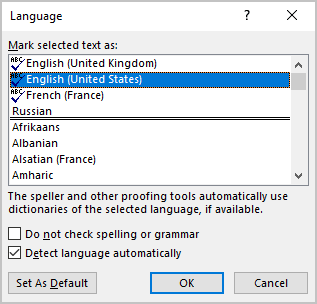 Notes:
You can set different languages to different words, sentences, paragraphs, pages, or sections in the document.
You can skip some words or sentences from spelling and grammar checking or add them to the custom dictionary for some language.