How to see the number of characters, words and sentences in Word document
Word automatically counts the number of words in a document while you type. Word also counts pages, paragraphs, lines, and characters. To see these numbers, do one of the following:
On the Review tab, in the Proofing group, click Word Count:

or

On the Status bar, click on the words count, for example:

Note: If you didn't see the words count of your document in the Status bar, right-click on the Status bar and select which data you want to see on it:
Word will open a Word Count dialog box that includes all counted entities: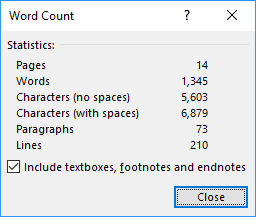 See also How to count number of characters, words and sentences for page or selected text in Word document.
See also this tip in French: Comment voir le nombre de caractères, mots et phrases dans le document Word.