How to create letters with pictures in PowerPoint slides
Sometimes you would like to add big letters to your slide to take attention to your logo, motto, etc. or maybe you would like to add a picture with some exciting design like a letter.
This tip is about how to create a picture with a form of the letter.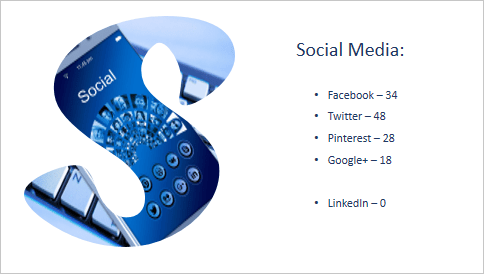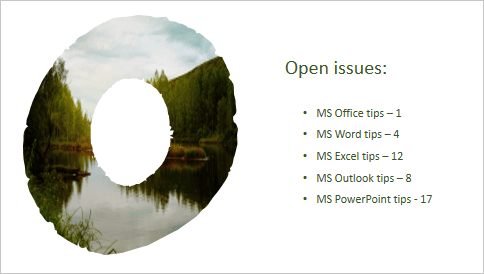 To create a picture like this, you need two simple steps:
   1.   Create a shape from a letter.
   2.   Add a picture to the shape.
To create a shape from a letter, do the following:
   1.   Add any shape to the slide, for example, rectangle:
   1.1.   On the Insert tab, in the Illustrations group, select Shapes: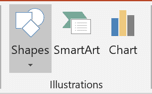 1.2.   In the Shapes list, from the Rectangles group, select and add to the slide the Rectangle shape:

   2.   Add the letter you would like to use in front of the shape, for example:
   3.   Select the shape and the letter and then under Drawing Tools, on the Format tab, in the Insert Shapes group, choose the Merge Shapes dropdown list and then select Intersect:

You will see the new shape from the letter (see some additional steps in the bottom of this tip for letter O or How to make modern picture design in PowerPoint slide):

   4.   Right-click on the shape and then choose Format Shape... in the popup menu: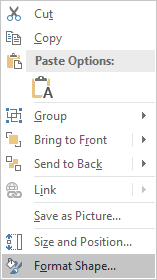 5.   In the Format Shape pane, in the Shape Options tab:
In the Fill section:

Choose Picture or texture fill,
Click on the File... button and then choose the picture you prefer:

In the Line section, select No line:
Add any other adjustments you would like.
Note: Sometimes, you need to make additional steps after creating a simple shape from a letter to see more interesting shape:
After step 3 you will see very think shape (here was used font Papyrus), do the following:

   a.   Just duplicate this shape, make it smaller, and add new oval shape between them: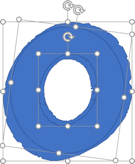 b.   Group them (see How to make modern picture design in PowerPoint slide).
See also this tip in French: Comment créer des lettres avec des images dans des diapositives.