Using templates to facilitate more versatile E-mail Distribution
If you want to construct a more complicated distribution list, with some recipients on the To field, some recipients on the Cc field, and yet more recipients on the Bcc field, you have to use a message template where you explicitly assign recipients to each field.
To create an e-mail template, follow next steps:
1. Create a new message, fill in the To, Cc, and Bcc address fields with the recipients you require. Add any information that you want to Subject, in the message body: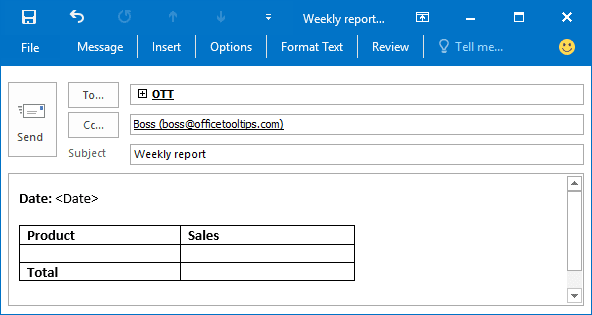 2. On the File tab, click Save As.
3. In the Save As dialog box: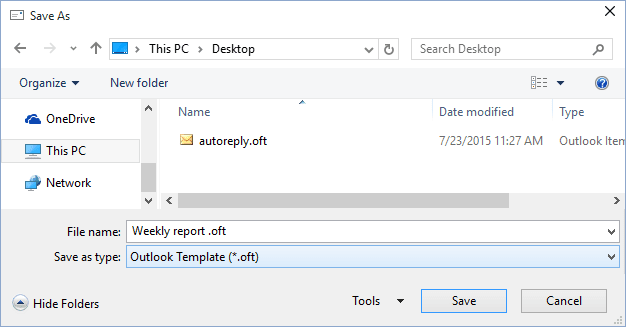 Use the dialog box tools to navigate to the location where you want to save the template.
The default name for the file is the subject. You can edit this if desired.
In the Save as type drop-down list, select Outlook Template (*.oft).
4. Click Save to save the template and close the Save As dialog box, then close the message that you saved as template.
To create a message using this template, do the following:
1. On the Home tab, in the New group, click in the New Items button and then choose More Items -> Choose Form...: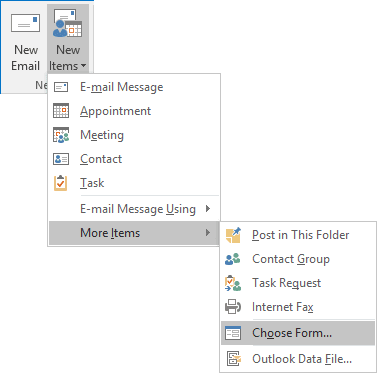 2. In the Choose Form dialog box, open the Look In drop-down list, and then select User Templates in File System or Desktop (if you saved your template in the Desktop):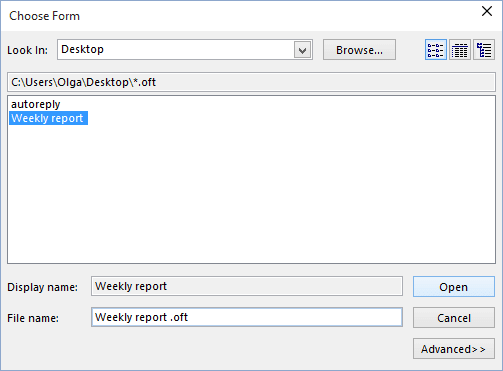 3. Highlight the template that you want to use, and then click Open.
See also this tip in French: Utiliser des modèles pour simplifier la distribution de courrier électronique.