How to restore (put back) a Calendar event from Trash in Outlook
Usually, when you execute a wrong operation in Microsoft Office, you can use Undo to cancel the previous operation and revert some of the earlier actions. Unfortunately, some activities cannot be reverted simply. This tip is about how to restore a Calendar event that was deleted by mistake.
For example, if you deleted a meeting from your Calendar, you can't simply Undo this action. To restore the removed event, do the following:
1. Find the deleted meeting in the Trash folder, for example: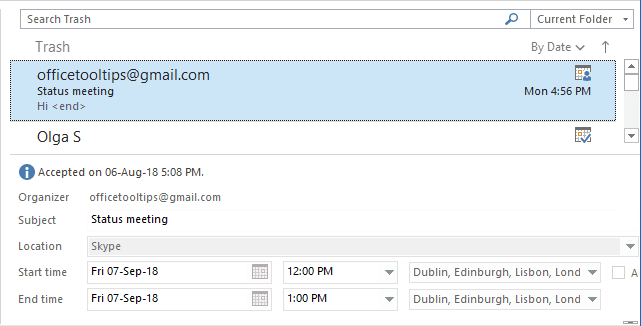 2. Do one of the following:
Open this deleted meeting and in the Meeting dialog box, on the Meeting tab, in the Respond group, and then:

If you have been accepted these meeting, select the Accept drop-down list and click Do not Send a Response:

If you didn't answer for this meeting yet, answer like you want.

Right-click on this meeting and select Move -> Calendar in the popup menu:

Right-click on this meeting and select Move -> Other Folder... and then in the Move Items dialog box, select Calendar:
See also this tip in French: Comment restaurer (retourner) un événement de calendrier à partir de la corbeille dans Outlook.