How to share a calendar in Outlook
If you have Exchange, Microsoft 365, or Outlook.com account, you can permit other people to view all or some details of your events, edit events, and delegate permissions. Though, you cannot distribute schedules to the email group or distribution list. External users who are not part of your organization and those who do not have Outlook also become a problem that the standard sharing method does not address. Instead, you can email a static copy of your agenda for a specific date range as an attachment.
To share a calendar in Outlook, follow these steps:
1. Click the Calendar icon in the Navigation bar to open the Calendar view.
2. On the Home tab, in the Share group, click the E-mail Calendar button: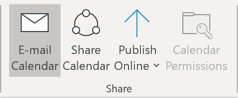 3. In the Send a Calendar via Email dialog box:
In the Calendar list, choose the calendar to send.

By default, Outlook selects your primary calendar that shows your fee/busy status, and records accepted meeting requests.

In the Date Range list, choose the timespan of calendar data to include in your message:

or click Specify dates... to enter a custom date range:

Note: If you specify a too wide date range or select the Whole calendar option, the message can be too big and hit message size limits on a receiver side.
In the Detail list, choose the details you want to reveal to the recipients. By default, the Availability only option is active:

None of the options include your items marked private unless you change the privacy option in Advanced options:

Optionally, you can restrict the information contained in the message to your working hours by selecting the Only show time within my working hours checkbox. To change your working hours, click Set working hours.
Optionally, to see advanced options, click Show >>:

Include details of items marked private - This option requires Detail to be set to limited details or full details. Information that some private items exist is added, but no other details about those private items are shared.
Include attachments within calendar items - This option requires Detail to be set to full details. All attachments to the calendar items, such as spreadsheets, are mailed.
Email Layout - You can include your Daily schedule or a List of events.
4. Click OK: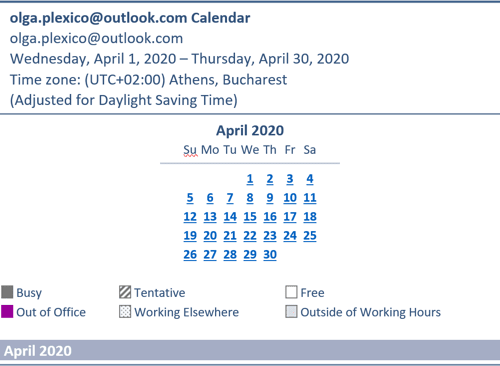 The calendar will appear to the recipient within the message body. See How to open received calendar, how to export Calendar from OST file to PST file.
The recipients of this email can see the events on your calendar that you added before sending the email. The updates you make in your schedule are not visible to them, and you need to send another message with the attached calendar events if you want to inform them of updates.
See also this tip in French: Comment partager un calendrier dans Outlook.