Print comments
If your worksheet contains comments, you can print them as they appear on the sheet or at the end of the sheet.
To print comments, do the following:
1. Click the worksheet that contains the comments that you want to print.
2. To print the comments in place on the worksheet, display them by doing one of the following:
To display an individual comment, click the cell that contains the comment, and then on the Review tab, in the Comments group, click Show/Hide Comment:

Note: You can right-click the cell and then click Show/Hide Comments on the shortcut menu:

To display all comments, on the Review tab, in the Comments group, click Show All Comments.
3. On the Page Layout tab, in the Page Setup group, click the dialog box launcher next to Page Setup:

4. In the Page Setup dialog box, on the Sheet tab, in the Comments box, click As displayed on sheet or At end of sheet: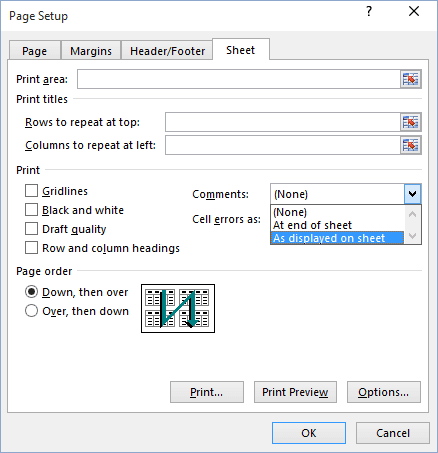 5. Click Print...
Note: To see how comments are printed, you can click Print Preview before you click Print.
See also this tip in French: Comment imprimer des commentaires dans Excel.