How to change flowchart connector or flowline
Most process flow diagrams and workflow charts use elbow connectors for connecting process stages and elements, but too many connecting lines of the same type give your chart a messy look. Fortunately, you can combine different connector types that represent semantically different transitions.
To change the connector type, it is not necessary to take several steps like to change shape (see How to change flowchart shapes in Excel), you just need to:
1. Select the connector you want to change:

2. Right-click in the connector, then in the popup menu, in the Connector Types list, choose connector type: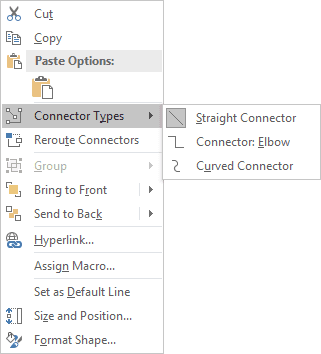 The connector type will be changed:

See also How to add text to the connector.
See also this tip in French: Comment changer le type de connecteur pour un diagramme.