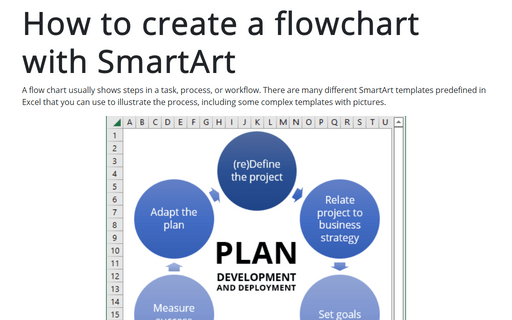 A flow chart usually shows steps in a task, process, or workflow. There are many different SmartArt templates predefined in Excel that you can use to illustrate the process, including some complex templates with pictures.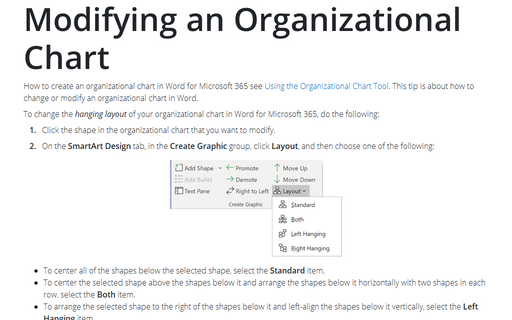 How to create an organizational chart in Word for Microsoft 365 see
Using the Organizational Chart Tool
. This tip is about how to change or modify an organizational chart in Word.
PowerPoint proposes a lot of predefined SmartArt graphics, which can help create your perfect presentation. Sure, all predefined graphics can be modified, but some modifications don't work correctly. This tip shows simple steps that can help you to modify SmartArt graphics.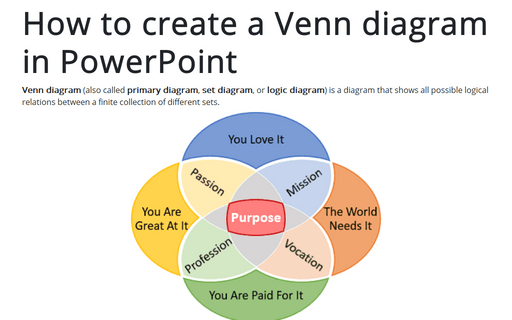 Venn diagram (also called primary diagram, set diagram, or logic diagram) is a diagram that shows all possible logical relations between a finite collection of different sets.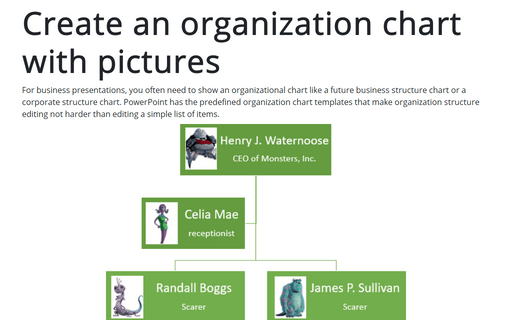 For business presentations, you often need to show an organizational chart like a future business structure chart or a corporate structure chart. PowerPoint has the predefined organization chart templates that make organization structure editing not harder than editing a simple list of items.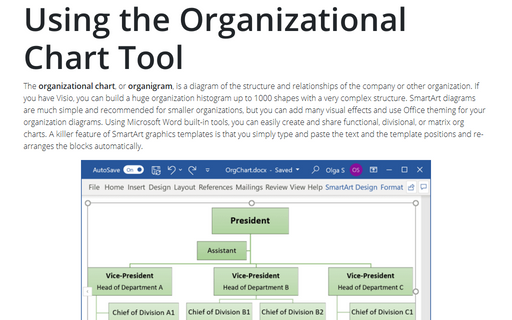 The organizational chart, or organigram, is a diagram of the structure and relationships of the company or other organization. If you have Visio, you can build a huge organization histogram up to 1000 shapes with a very complex structure. SmartArt diagrams are much simple and recommended for smaller organizations, but you can add many visual effects and use Office theming for your organization diagrams. Using Microsoft Word built-in tools, you can easily create and share functional, divisional, or matrix org charts. A killer feature of SmartArt graphics templates is that you simply type and paste the text and the template positions and re-arranges the blocks automatically.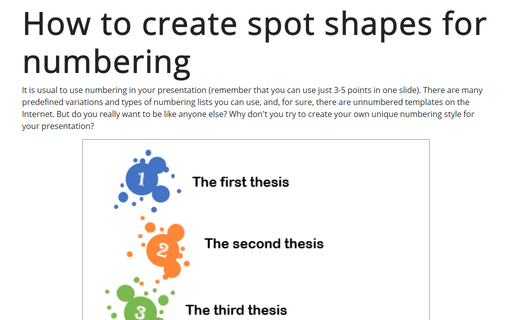 It is usual to use numbering in your presentation (remember that you can use just 3-5 points in one slide). There are many predefined variations and types of numbering lists you can use, and, for sure, there are unnumbered templates on the Internet. But do you really want to be like anyone else? Why don't you try to create your own unique numbering style for your presentation?
Microsoft Word (like Microsoft Excel and Microsoft PowerPoint) proposes tools to
create and update organizational charts
, but only for the
hierarchical organizations
. A
hierarchical organization
is a tree-like organizational structure where every entity in the organization, except the root, is subordinate to a single other node, i.e., has only one parent.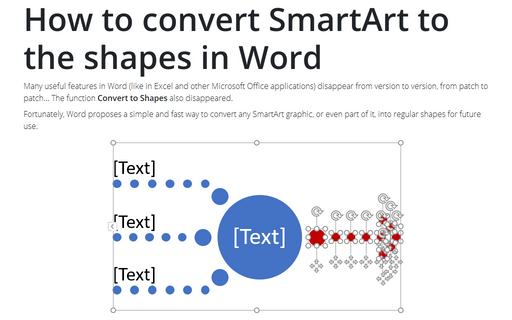 Many useful features in Word (like in Excel and other Microsoft Office applications) disappear from version to version, from patch to patch... The function Convert to Shapes also disappeared.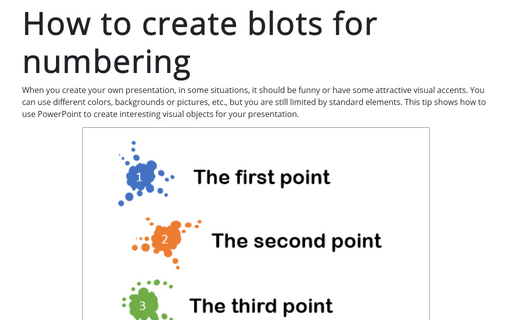 When you create your own presentation, in some situations, it should be funny or have some attractive visual accents. You can use different colors, backgrounds or pictures, etc., but you are still limited by standard elements. This tip shows how to use PowerPoint to create interesting visual objects for your presentation.