How to archive folder in Outlook
AutoArchive in Outlook moves old items to a local archive data file to reduce the size of your mailbox. Global AutoArchive settings apply to the entire account, but you can define a more precise policy for some folders.
To customize AutoArchive features for the specific folder, do the following:
1. Right-click on the particular folder and choose Properties... in the popup menu: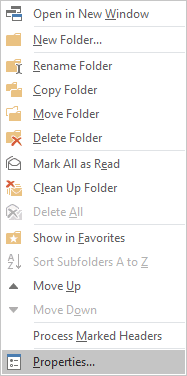 2. In the Properties dialog box, choose the AutoArchive tab: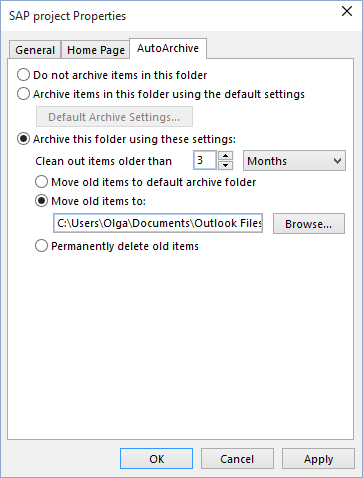 3. You can specify how you want to archive messages in this folder.
Exclude the selected folder from the automatic archiving;
Archive the folder with default settings;
Archive the folder with the custom settings (you can choose a different .pst archive file).
If necessary, you can specify archive settings for every folder and disable the AutoArchive at a global level.
See also the tip How to automatically archive emails in Outlook.
See also this tip in French: Comment personnaliser le dossier d'archivage automatique.