How to add and use voting button in Outlook
Voting Buttons in Outlook is a useful feature, which can help to collect your colleagues' or friends' decisions with email messages easily. This article is arranged to guide you add and use voting buttons in Microsoft Outlook with ease.
To add voting buttons to an email message, follow these steps:
1. In the Message window, on the Options tab, in the Tracking group, click the Use Voting Buttons button:

2. Select one of the following:
Approve; Reject - When you want only approve or reject.
Yes; No - When you want only a definite yes or a no, this is the best choice.
Yes; No; Maybe - This voting option offers recipients a third option.
Custom... - Click this command to create your own custom voting button names.
If you choose Custom, the Properties dialog box opens: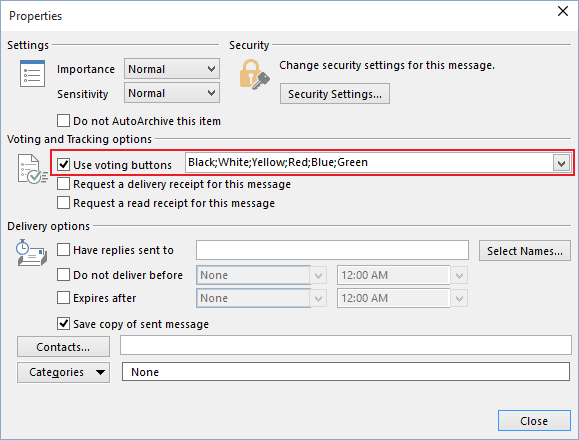 Type your own choices in the Use Voting Buttons text box. Follow the pattern of the suggested choices; just separate your options with a semicolon.
After you apply the voting button, there is a message of You added voting buttons to this message. appearing above message header: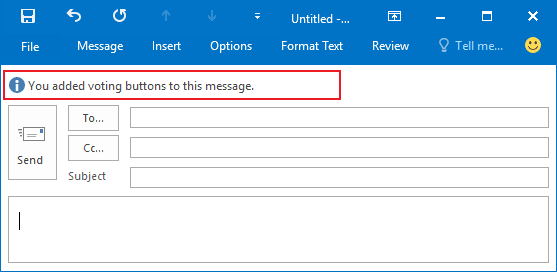 The message will have choices you added: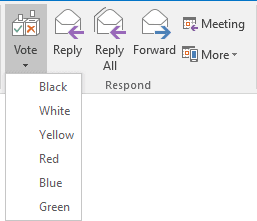 Note: The maximum number of voting buttons is 32. If you have more than 32 voting buttons in a message, Outlook discards all of them without any warning to the user.
See also how to see the voting results.
See also this tip in French: Comment ajouter et utiliser les boutons de vote.