Rule to display mail from somebody
If you are waiting for the important e-mail from someone or need to be informed when your boss sends you an e-mail, create an alert rule and give a rest to your brain. You will be informed promptly by alert as soon as Outlook receives such kind of e-mail.
Use the following steps to create this rule:
1. Select Tools -> Rules and Alerts... to display the Rules and Alerts dialog box.
2. In the Rules and Alerts dialog box, choose New Rule....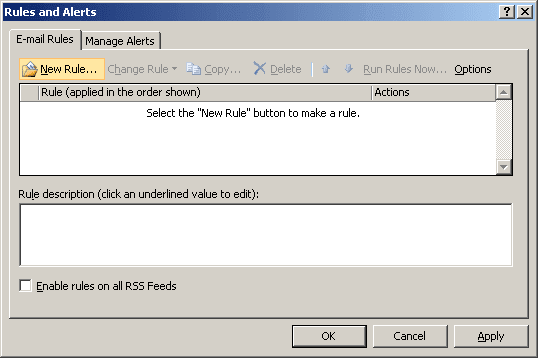 3. Choose the Display mail from someone in the New Item Alert Window option, click Next.
4. Choose the condition from people or distribution list and click people or distribution list in the Step 2 text box:
5. Choose the address of your boss (for example) and then click Next to choose your action.
6. Choose display a specific message in the New Item Alert window in Step 1 and click specific message in Step 2:
Enter the text in the Alert Message dialog box, click OK and click Next.
7. You probably don't want any exceptions, so click Next again, name your rule, and click Finish.