Rule to copy all correspondence on some subject to the specific folder
Use Outlook rules to copy all incoming messages to the specified folder. E.g., copy all e-mails with OfficeToolTips tips subject to the OfficeToolTips folder.
Use the following steps to create this rule:
1. Select Tools -> Rules and Alerts... to display the Rules and Alerts dialog box.
2. In the Rules and Alerts dialog box, choose New Rule....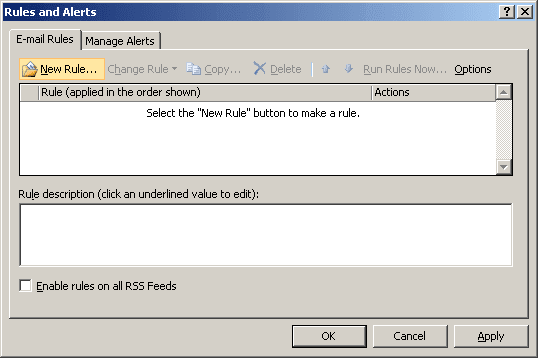 3. Choose the Check messages when they arrive option and click Next.
4. Choose the condition with specific words in the subject or body and click specific words in the Step 2 text box. For this example, add ott tip and officetooltips tip to the search text:
5. Click OK when you finish adding the phrases to the search text and then click Next to choose your action.
6. Choose move a copy to the specified folder in Step 1, then click specified in Step 2 and choose the OfficeToolTips folder and click Next.
7. You probably don't want any exceptions, so click Next again, name your rule, and click Finish.