Creating a simple competition chart
This tip shows how to create simple competition chart using bar chart.
To create the chart like this one, do the following:
1. Select all necessary data - in this example, C4:D4, C15:D15:
2. On the Insert tab, in the Charts group, choose the Bar button:

Choose Clustered Bar.
3. Right-click on the chart and in the popup menu select Add Data Label and again Add Data Label: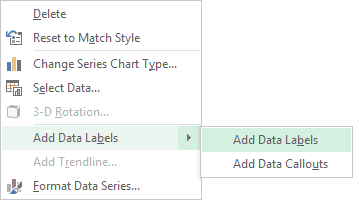 4. Select one of the data labels:
5. In the Format Data Label task pane, on the Fill & Line tab, in the Fill group, check Picture or texture fill and then click on the File... button (if you have the picture already), Clipboard or on Online... (if you would like to upload picture from Internet):
6. Make changes for the second data label (repeat steps 4 and 5 for it).
Make any other adjustments to get the look you desire, see also Creating a chart with dynamic labels.